Showing the single result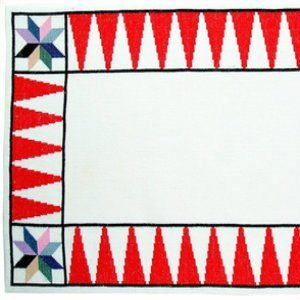 530,00

DKK
"Peters Tromme" -Tablerunner
This table runner, combines in the most beautiful way an ancient technique with a graphic expression that suits the homes we have today. At Tille's we love this table runner! Designer:
Tine Wessel
Add to cart
Fru Zippe
Fru. Zippe embroidery kits for tablecloths, towels, pillows and blankets are always a guarantee of finding a pattern or an embroidery kit you like. All of Fru. Zippe's patterns can be found at Tille's online shop, where you will also find all the accessories you may need in connection with the embroidery work.
Fru Zippe – a clear vision for each motive
Fru. Zippe – a clear vision for each individual motive One of the advantages of the products from Fru. Zippe is that she always has a clear vision of what the end result of the product should look like. This provides beautiful, exciting and not least creative motifs, where both experienced and beginners can participate in the game. Fru. Zippe is thus a universe for you who love to embroider and who enjoy having concrete motifs to work from.
Embroidery kit with everything you need
Included in all embroidery kits from Fru. Zippe are yarn, embroidery needle, suitable fabric etc. This gives you everything you need in a single product. The advantage of choosing this solution is that Fru. Zippe has decided on the type of yarn and fabric, the thickness of the needle and everything else that can be difficult for the beginner to see through. Included in these kit's is of course also a detailed stitch guide so you get an end result that is similar to the motif you originally purchased.
Advice and guidance when buying Fru. Zippe's embroidery kit
At Tille's, we always make sure to provide the best service and guidance. This way you get the best experience if you order something from our shop. Whether you are a beginner or have experience does not matter, the stitch guide will help you along the way.
Learn to embroider on Tille's creative courses
If you are in doubt, finally contact us here or drop by for one of our many creative courses. Our students are always in the best hands when learning new stitches and methods. We always adapt our learning to the individual's experience and competencies, so that it becomes fun to learn new things.